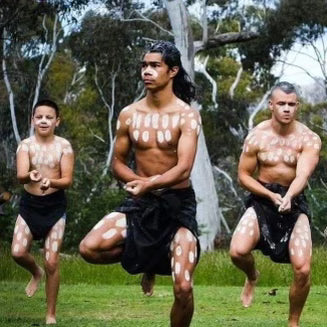 Performances
Immerse yourself in the rhythm, stories, and traditions of Indigenous Australia through our mesmerizing performances. We've graced prestigious stages like the Sydney Opera House Forecourt during Dance Rites, energized the Penrith Panthers NRL matches at Carrington Park, Bathurst, and added our unique touch to the Group 10 Rugby League Indigenous Round. Our vibrant presence has also been felt at numerous events in Cowra, Young, and the surrounding areas. Our performances are a celebration of Indigenous culture that leaves a lasting impression on audiences of all backgrounds.
Workshops
Dive deeper into the heart of Indigenous culture with our engaging workshops. We offer opportunities to learn traditional dances, art, and storytelling, guided by our talented members. Whether you're a school group, corporate team, or community organization, our workshops are tailored to create meaningful connections while imparting valuable cultural knowledge.
Mentoring
Dinawan's Connection believes in the power of mentorship to inspire the next generation. We offer mentorship programs that provide guidance and support to Indigenous youth, helping them connect with their heritage and pursue their dreams.
Dinawan's Connection acknowledges the Traditional Owners of country throughout Australia and recognises their continuing connection to land, waters and community.
We pay our respect to them and their cultures; and to Elders past, present and emerging. Always was, Always will be Aboriginal Land.